Exterior solutions enhance quality of life.
Take a step towards an easier lifestyle and enjoy relaxing at home on the weekend instead of attending to constant upkeep.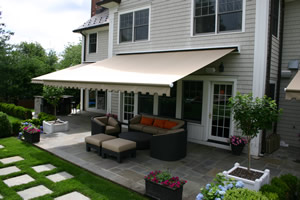 When it comes to maintenance-free products, our professionals at Thermal Tech have the answers! Consider the possibilities. You can enjoy the great outdoors right at home by expanding your livable space with manual or motorized awnings over your patio or deck. And at the same time, perhaps you like to upgrade your deck to high-tech material that won't fade, splinter or require stain. Then again, you may be interested in easy care vinyl windows, doors or even cedar shingles that look authentic. Or how about hand-split shakes to spruce up your home's exterior? If the look of stacked stone is your preference, even your neighbor won't be able to tell the difference. Whatever your choice, you can rest assured that our next-generation products will dress up your exterior and save you precious time for years to come.